Kati És A Kerek Perec
Kati És A Kerek Perec
–
Pepita ‎– SLPX 17605
Hungary
1979
TITANIC
Narrator – Bőzsöny Ferenc
Another album from Hungary that contains some real dope Disco sounds. For my taste are the tunes in all sometimes a little bit overloaded. But there is mostly a catchy hook line, a fancy Disco loop or other interesting elements to discover. For example the epic piano and guitar hook of TIZENÖT NYÁR (YouTube below). Haunting melody, the rocking kind of Disco.
Tracklist

A1 Csak Egy Képregény
A2 Szeress, Amíg Élsz!
A3 Titanic
A4 Fátyoltánc
–
B1 Ő Az A Cigánylány
B2 Hívnak A Fények
B3 Villamos Szerelem
B4 Tizenöt Nyár
B5 Üvegszív

Kati És A Kerek Perec

Katalin Nagy (lead vocals, synthesizer, saxophone)
Ernő Kiss (bass, vocals)
Sándor Zámori (drums)
Miklós Patay (guitar)
Ádám Végvári (vocals, guitar, bass)
Gyula Bardóczy (drums)
---
Find the original vinyl LP on eBay!
€13.00
Ends in 25d 9h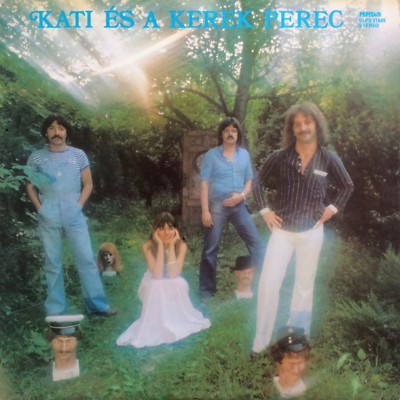 Kati És A Kerek Perec
Kati És A Kerek Perec
–
Pepita ‎– SLPX 17605
Hungary
1979