Max Greger Junior
Thursday Night
–
Happy Records ‎– HR 2224
Germany
1980
Dancing
Nice and easy Jazz Library album by German jazz pianist, composer and arranger Max Greger Junior, son of Max Greger (famous German jazz musician, saxophonist, band leader and conductor). Contains the light kitschy but catchy tune DANCING, written by Martin Böttcher. And yes, Greger's piano is nicely dancing over the warm groove, charged with input of the Munich Pop Strings. Clean, 80's studio Jazz but reminds me a little bit of the cool Soundtrack Jazz compositions by Vince Guaraldi Trio for Charles Schulz's PEANUTS which I was gladly listening in my childhood. Quite the right sound for a relaxed Thursday night.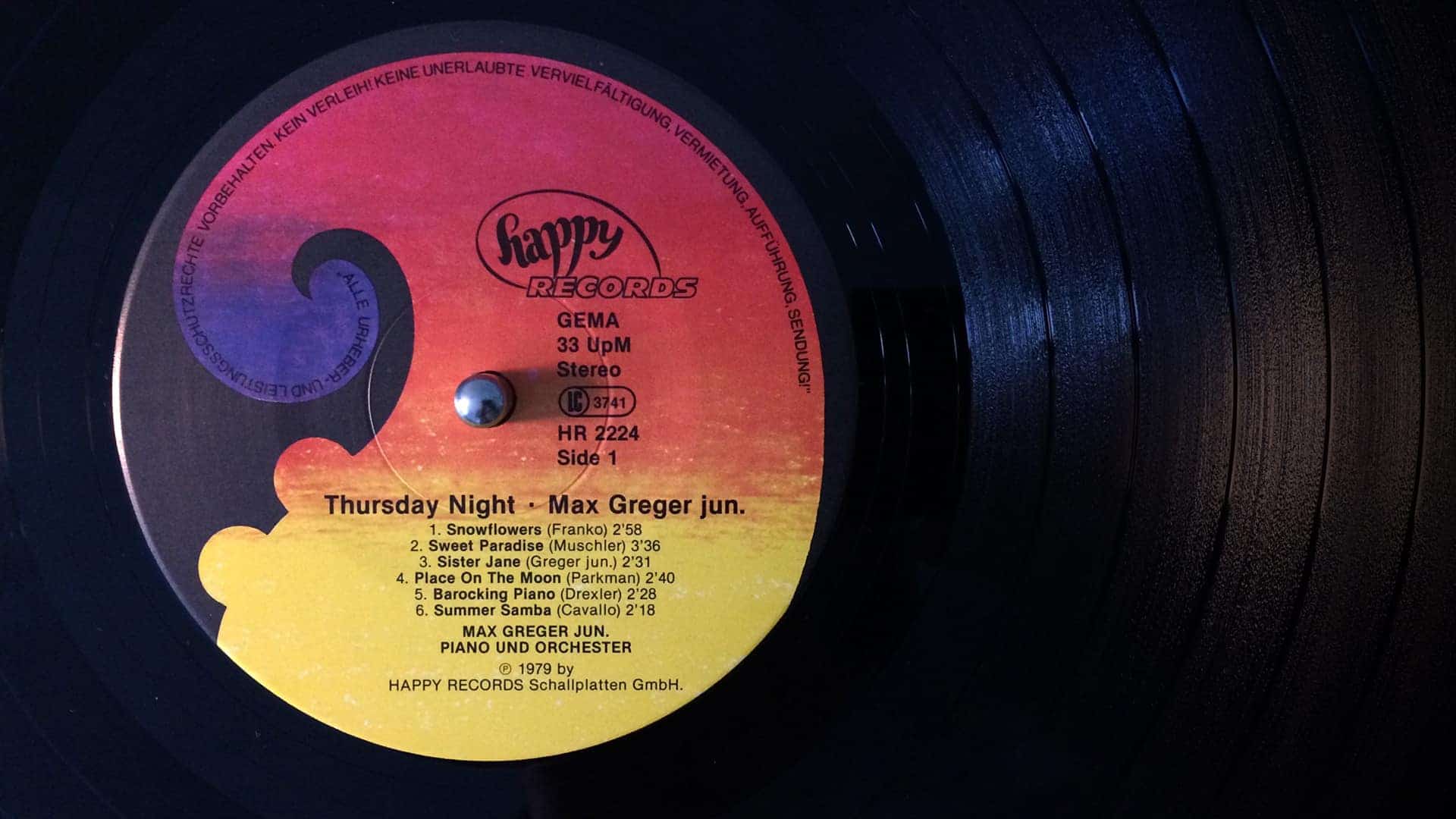 Tracklist

A1 Snowflowers 2:58
A2 Sweet Paradise 3:36
A3 Sister Jane 2:31
A4 Place On The Moon 2:40
A5 Barocking Piano 2:28
A6 Summer Samba 2:18
–
B1 Piano Story 2:46
B2 Flight To Rio 2:57
B3 Thursday Night 2:31
B4 Max In Town 2:05
B5 Dancing 2:53
B6 Very Busy 2:33

Credits

Arranged By, Conductor – Roy Kent
Bass – Milan Pilar
Cover – Jutta Gangfuss
Drums – Curt Cress
Engineer – Willi Schmidt
Guitar – Siggi Schwab
Percussion – Pit Trojer
Producer – Adi Wilms
Strings – Munich Pop Strings
---
Find the original vinyl LP on eBay!
Max Greger Jun.
Thursday Night
–
Happy Records ‎– HR 2224
Germany
1980