The Kenny Bird Orchestra /
Lado's Latin Combination ‎
Volume 4
‎–
Altaxon ‎– AL 1020
Germany
Da Nada
Very lovely and crazy samba tune with funny vocals. Happy, feel good music!
Show Me That Funky Stuff
Another one of this 70s Altaxon library albums that are Various Artists because you have on each side music from another combo. In my perception is in this case the THE KENNY BIRD ORCHESTRA side stronger. But both sides contains some nice Brazil, Bossa and seldom heard Funk & Soul music. For example is there also to recommend a fast and funky rare groove tune called SHOW ME THAT FUNKY STUFF. Thrilling library, soundtrack car chase style.
Tracklist Tracklist

A1 Sky Scraper 2:15
A2 Frank's Movin' 3:28
A3 Caribian Party 3:08
A4 Cirrus 2:34
A5 Open Air 2:24
A6 Da Nada 3:11
A7 Show Me That Funky Stuff 3:32
–
B1 Little Baby's Got The Blues 3:49
B2 Up Tight 2:00
B3 Country Clouds 3:19
B4 Sunrise 2:28
B5 Lovers Melody 2:43
B6 Mosca Espanola 2:24
B7 Midsummer "Theme" 2:25

Composers

Manuel Riga
Gerald Brown
Rolf Karber
Ginger Jones
Fritz Maldener
José Fernando
Fritz Münzer
Fred Armbrüster
Bernd Müller-Franz
Manuel Riga
Wolfgang Lauth
Heinz Laduskow
---
Find the original vinyl LP on eBay!
€27.00
Ends in 6d 20h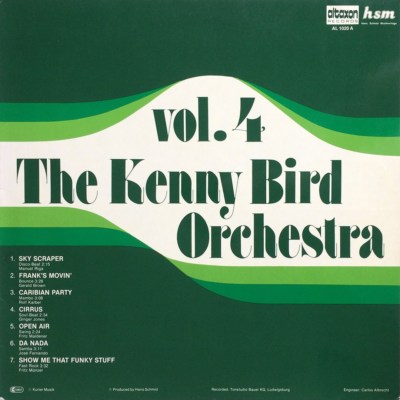 The Kenny Bird Orchestra /
Lado's Latin Combination ‎
Volume 4
‎–
Altaxon ‎– AL 1020
Germany