Various ‎
Rock aus der alten Schule
–
RD Records ‎– RDR 1002 L
Germany
1981
Wormser Rockgruppen aus der alten Schule
Rare, obscure and published privately vinyl compilation record of bands from the rock music scene of the city Worms. Local musicians, formations from all genres, that had their rehearsal room at an old, empty schoolhouse beginning of the 80's. With this album and other public activities they wanted to fight against the closing threat of their rehearsal-domicile at the old, former elementary school building. This sampler should showcase the art, diversity and quality that was coming out of this rock house in the old school and it was only possible with invest heart, soul and sponsorship of the producer Roland Demmerle. The crazy cover artwork and info-booklet design was made by Dieter Thau, graphic designer and the godfather of the naughty rat, the funny mascot from RD records, the label with bite.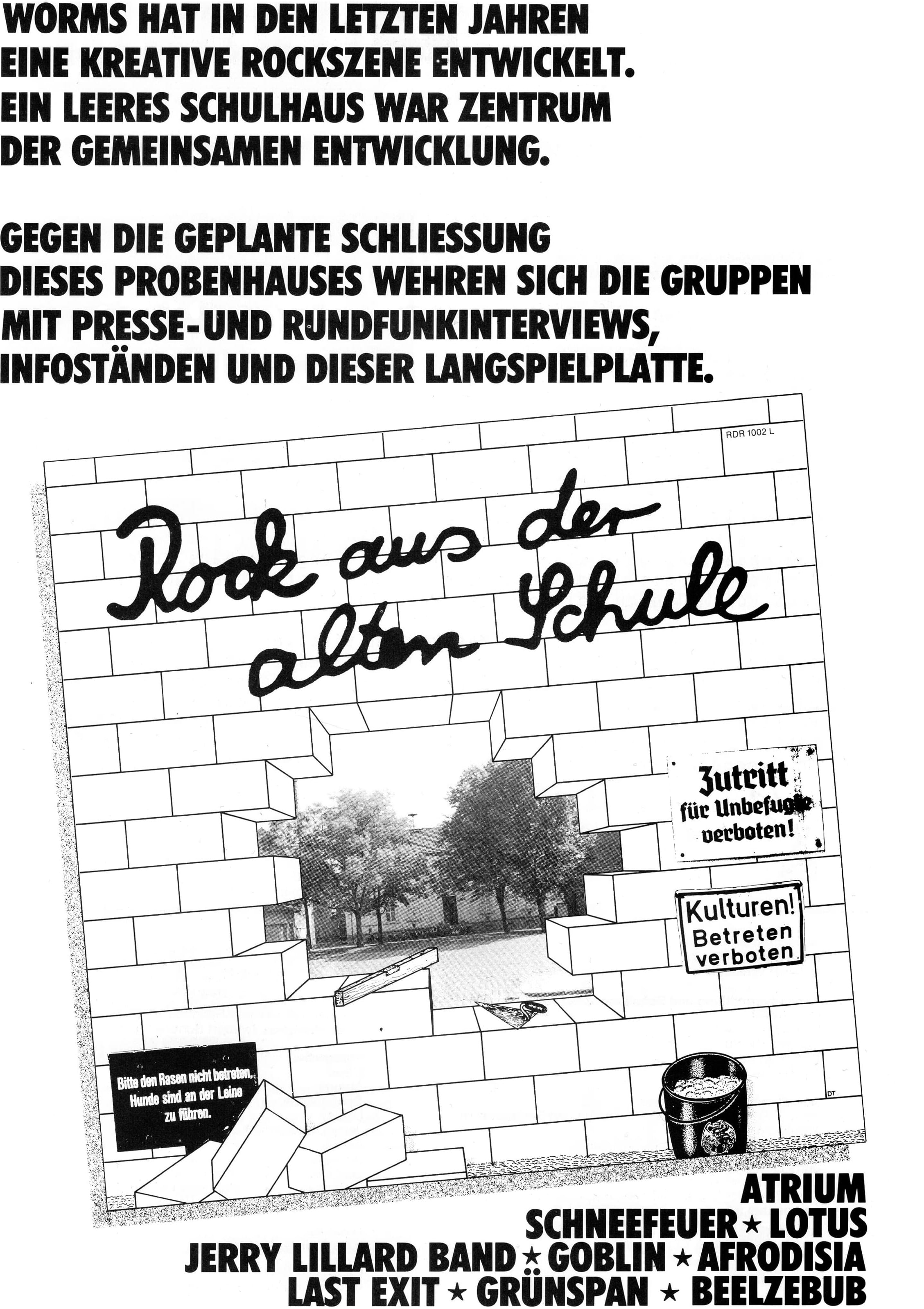 B1 Afrodisia – A Fool No Longer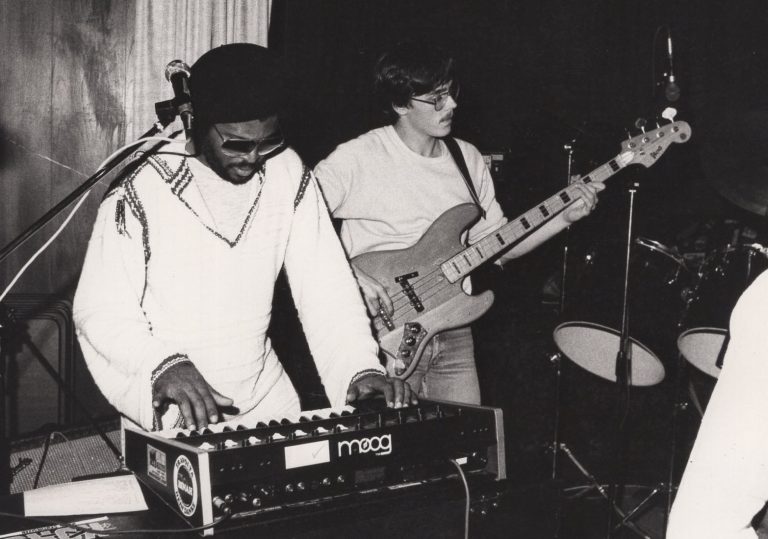 AFRODISIA picture from 5767 home of Cordial Recordings.
Afrodisia, a local German Afrofunk formation of US Germany based soldiers and local German musicians from Worms. Sounds very interesting and unique in a good way. Funky style mix with many different influences. To classify it's anywhere between African Jazz, Funk, Disco grooves and Free-Soul. Afrodisia were formed in 1978 and in the year 1980 they had released their debut album called ELEPHANT SUNRISE on Comma Records. The great tune A FOOL NO LONGER was developed later and planed for the, never released, second album. Great, catchy vocals and some groovy Modern Soul influences.
AFRODISIA

Hans Heer (bass)
Jerome Durant (sax)
Delaware Johnson (vocals, percussion)
Kevin Austin (drums, percussion)
Darmell Stephen Summers (keyboards, percussion, vocals)
Michael Jens Koschorreck (guitar, vocals)
Stefan Trazb (drums, vibes, percussion)
Dennis Betts (piano, percussion, vocals)
Michael Mahla (violin, vocals)
More information about Afrodisia and an interview with Darnell Stephen Summers you can find on 5767 home of Cordial Recordings.
–
Jerry Lillard Band
A4 Jerry Lillard Band – Moments To Want You
Jerry W. Lillard, native-born in Tampa/Florida U.S.A. moved to Germany because he was working for the local positioned US armed forces. The man with this timeless mustache plays guitar, dulcimer and sings while his German band member Hans Jürgen "Hansi" Neber is playing bass, drums and also guitar. For the recording of MOMENTS TO WANT YOU they added some musicians from AFRODISIA. This is also their only ever released tune. Haunting melody and some nice vocals. The more relaxt grooving kind of SOUL music.
–
Lotus
A3 Lotus – Light Of My Life
LOTUS, a band of five dudes originally from Worms, Germany. Also exclusively with their only ever released tune on this compilation. Affected by a collective fascination for Santana they brought some hot Latin and percussion fire into the local Wormser rock music scene.
Rock aus der alten Schule


Tracklist
A1 Atrium – Saat der Gewalt
A2 Schneefeuer – Majorshof
A3 Lotus – Light Of My Life
A4 Jerry Lillard Band – Moments To Want You
A5 Goblin – Nautilus
–
B1 Afrodisia – A Fool No Longer
B2 Last Exit – A Good Thing
B3 Grünspan – Die Städte
B4 Beelzebub – Fomoggen

Compilation Producer: Roland Demmerle
Cover Artwork & Graphic Design: Dieter Thau
---
Find the original vinyl LP on eBay!
Various ‎
Rock aus der alten Schule
–
RD Records ‎– RDR 1002 L
Germany
1981