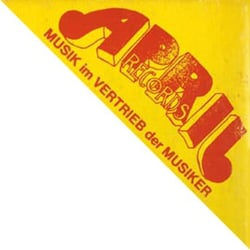 Embryo
Apo Calypso
–
April ‎– APRIL-RECORDS 000010
Germany
1977
Knast-Funk
Very interesting Krautrock album, released  on April Records, full of musical diversity. My personal highlight is a funny, funky tune called KNAST-FUNK with groovy organ grinds.
Tracklist

A1 Break Into Pieces (4:42)
A2 Endless Feeling (7:18)
A3 Together (5:39)
A4 Knast-Funk (5:57)
–
B1 Amnesty Total (9:09)
B2 Getalongwithasong (14:13)

Embryo

Bass – Uwe Müllrich
Drums, Percussion – Ralph Fischer
Keyboards – Michaël Wehmeyer
Vocals, Organ, Vibraphone [Electric Vibes], Marimba – Christian Burchard
Vocals, Veena, Oud, Guitar [Ibanez & Tama Guitars] – Roman Bunka

Engineer – Etienne Conod, Gunni Heidler
Mixed By [Remixed] – Gunni, Ulli
Producer – Embryo
---
Find the original vinyl LP on eBay!
Embryo
Apo Calypso
–
April ‎– APRIL-RECORDS 000010
Germany
1977