Andy Goldner
Belleville …
–
Peak – pea 3480
Germany
1981
White Lion In A Babylon
Very dope, soulful Reggae nugget made in Kirchheim/Teck, Southern Germany. Smoky beats, nice organ grinds, decent guitar riffs and catchy vocals. Repeat, repeat and loop it … the regular 5.05 minutes are not enough, I would like to hear it in a extended version.
Andy Goldner
Andy Goldner is a German musician, a Krautrock legend from Stuttgart and mostly noted as guitar and bass player. But with his former band Exmagma he is also listed with the tape recorder as musical instrument in the credits. Exmagma was Andy Goldner together with drummer Fred Braceful and organ player Tommy Balluff. This trio was performing very free, experimental, improvised music or even Krautrock as many people call it. Belleville … was the second solo album by Andy Goldner after his time with Exmagma.
Andy Goldner – Infinity, promotional-video for the first solo album (1978).
More interesting stuff about Andy Goldner you can find on his website: www.andygoldner.com
Punk 'N' Soul
The cover artwork comes in a typical Punk, DIY design style. Crazy photo-collages, text written with typewriter and letters that looks like cut out of newspapers and magazines. Especially the type-composing of the name ANDY GOLDNER reminds me a little bit of this famous iconic SEX PISTOLS lettering. All printed in one color, black only. Cover and insert showing one side with more white content and the others side is inverted in each case.
But when you expect straight noisy on three accords restricted Punk Rock will get surprised by very diverse, great made music and some lightly soulful tunes on this album. Funky breeze shows the tune COME ON but more fascinated I am by the relaxed Reggae tune WHITE LION IN A BABYLON.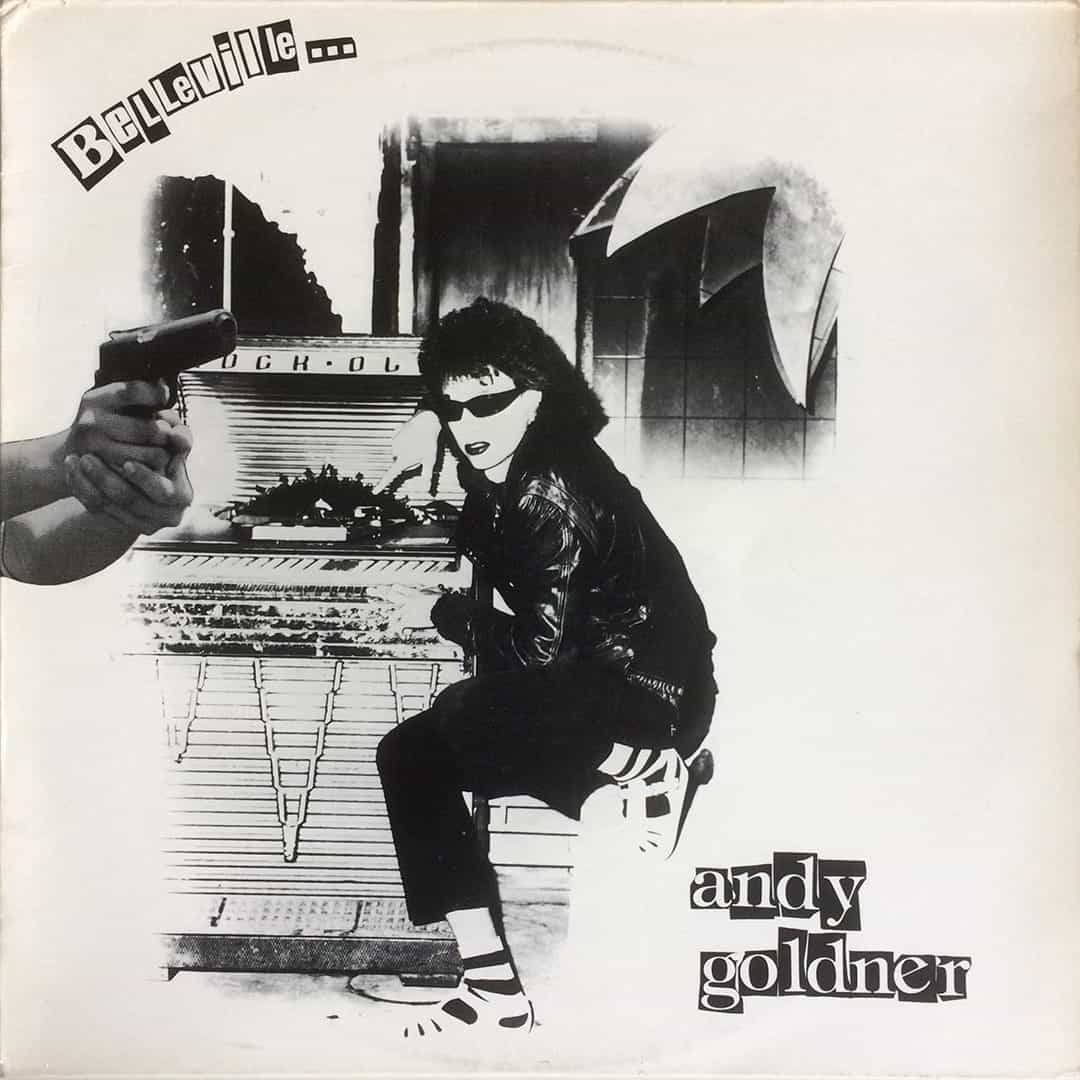 Tracklist

A1 Pretty Bold
A2 Walkin' Down
A3 I Want It
A4 White Lion In A Babylon
A5 Goin' Thru
–
B1 Come On
B2 Check It Out
B3 18 And A Gambling Man

Credits

Andy Goldner: Vocals & Guitar
Thomas Balluff: Organ
Peter Garattoni: Drums
Peter Weber: Bass
–
Composed by Andy Goldner
Produced by Andy Goldner, Peter Garattoni
Mixed by Andy Goldner, Petrus Wippel
Recorded by Achim Bosch, Peter Weber
Recorded at Spygel Studio, Kirchheim/Teck
–
Photography by Klaus Rohm
Coverdesign by Söldner / Jahnmeier
---
Find the original vinyl LP on eBay!
€23.00
Ends in 6d 20h
Andy Goldner
Belleville …
–
Peak – pea 3480
Germany
1981