Johnny & Orquesta Rodrigues
Hey Mal Yo
–
Negram ‎– NR-110
Netherlands
1975
African Woman
Johnny Rodrigues, the Capeverdean singer that had with HEY MA YO in the year 1975 a number-one hit in the Netherlands, his adopted country. And this is also the title of this album. Released on the Dutch record label Negram and the German Music For Pleasure. It's full of Funk & Soul, Latin and African music produced by Dutch singer and composer Peter Tetteroo. Often a little bit over the cheesy edge.
There is one towering tune called AFRICAN WOMAN, a smart made cover of LADY by Fela Kuti the pioneer of the Afrobeat music genre.
Tracklist

A1 Tente (3:30)
A2 African Woman (4:06)
A3 Hey Mal Yo (3:05)
A4 Amor De Vino (2:44)
A5 Coconut Monkey (2:45)
A6 Do It Baby (3:58)
–
B1 Maranque Part 1 & 2 (5:03)
B2 Help Me Through (3:13)
B3 Hasibaba (3:35)
B4 Mona Lisa Part 1 & 2 (6:58)
---
Find the original vinyl LP on eBay!
€20.00
Ends in 13d 21h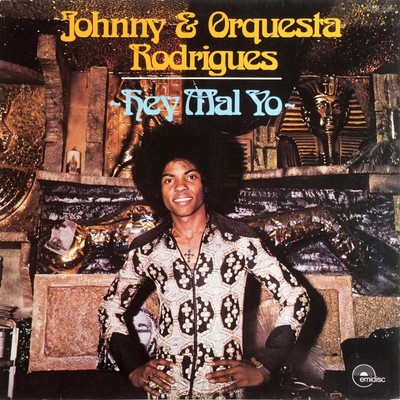 Johnny & Orquesta Rodrigues
Hey Mal Yo
–
Music For Pleasure ‎– 1 C056-51 894
Germany
1975