Lufthansa Band
Cargo Party 1
–
EMI Electrola ‎– F 668 187
Deutsche Lufthansa AG
Germany


Lufthansa Band
Take-off for some dope Corporate-Funk. Soulful sounding Work-Life-Balance project by some employees of the major German airline corporate group. The Lufthansa Band was founded in 1971 by Siegfried Jente inside the Lufthansa company group. All band members worked for Lufthansa and for such a corporate band they sounding not bad. The Lufthansa band played concerts all over the world and became an ingredient of the worldwide marketing of Lufthansa. From their journeys they brought inspiration and influences for their music. But it seems that they had also the mission to deliver German Volksmusik to the world.
Everybody
Most of the tunes on this album are not really useful in my ears. But there is this fragile cover version of Sunshine Day by Afro-Pop band Osibisa. They called it EVERYBODY and it got me in a kind of guilty pleasure way. Black music from white people. Less-than-perfect and you can hear and feel that this musicians are hopefully much better in their daytime jobs at the airline company. But the knowledge about this brings also the special charm to this little non-circular grooving song.

Tracklist

A1 Fliegermarsch (3:16)
A2 Was Hat Sie (2:51)
A3 Sail Along Silvery Moon (3:28)
A4 Sambario (4:00)
A5 Schützenliesl (2:43)
A6 Everybody (3:56)
–
B1 Azzurro (3:15)
B2 Brasil (2:51)
B3 This World Is A Mess (3:42)
B4 Tulpen Aus Amsterdam (3:30)
B5 Saturday Night Fever Medley (4:08)
B6 Tölzer Schützenmarsch (2:15)

Lufthansa Band

Helmut Benker
Lehrer für Tarifwesen
Saxophon, Klarinette, Zither

Nicola Cosentino
Stellvert. Stationsleiter
Gitarre, Gesang, Percussion

Michael Diel
Verkaufsförderung
Gitarre, Gesang, Promotion

Manfred Höss
Lizensierter Flugzeugmechaniker
Schlagzeug, Gitarre, Akkordeon, Gesang

Klaus Janotta
Verkaufsförderung
Keyboards, Akkordeon, Gitarre, Gesang, Arrangements

Siegfried Jente
Bereich Systemanalyse und Programmierung
Gitarre, Bass, Schlagzeug, Gesang, Management, Organisation, Promotion

Frank Meyer
Dipl.-Ing. Elektronik
Trompete, Klavier, Arrangements, Technische Instandhaltung der Anlage

Inge Mitte
Flugbegleiterin
Gitarre, Gesang

Roland Ulatowski
Dipl.-Ing. Elektronik
Gitarre, Banjo, Geige, Klavier, Tenorhorn, Technische Instandhaltung der Anlage

GEMA
F 668 187
St 33 – auch Mono abspielbar

Produzent
Deutsche Lufthansa AG
Frachtverkaufsleitung Deutschland
---
Find the original vinyl LP on eBay!
€7.00
Ends in 1d 6h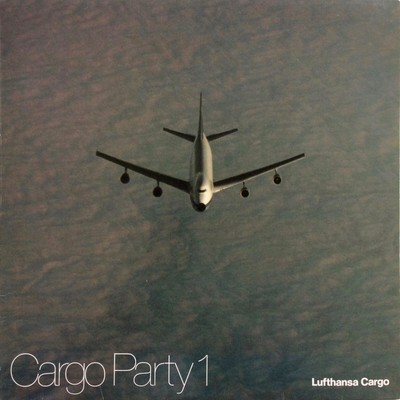 Lufthansa Band
Cargo Party 1
–
EMI Electrola ‎– F 668 187
Deutsche Lufthansa AG
Germany