Hallimasch
Canta
–
F 667.399
Germany
1981
Self released and sadly the only record by Hallimasch, a German Afro-Latin-Folk-Jazz band from Düsseldorf. Formed 1976 out of an Folk group from music teacher Hans Engstfeld (brother of Wolfgang Engstfeld) and named after the delicious, but raw toxic, Hallimasch (Armillaria) mushroom. Hallimasch had played many concerts before they recorded 1981 this album. So they had proved the tunes and many details was fine tuned with fervent energy and unbounded creativity.
I love this album full of great and timeless music. The nice painted Dschungel-cover-artwork is not promising too much. There is some groovy Dschungel-Music on it. Multi-genre mischmasch-sound. All the 10 tracks are very diverse in a well done way. Calypso, Latin, Folk, Jazz, Afrobeat and also some Turkish influences are to discover. Very interesting and some tunes are very useful in a DJ-context. My personal and long time favorites are TANGA, a nice flute driven tune with a Brazilian flair and OH LA LA which goes in very a similar direction. Positive vibes, catchy Feel Good Music!
Hallimasch

Axel Adams
Hans Engstfeld
Wolfgang Filz
Thomas Giesler
Cordelia Loosen-Sarr
Babette Menzen
Ruprecht Schwarzburger
Robert Pehle

Tracklist

A1 Tanga (3:42)
A2 Television (3:23)
A3 Jalandi Coban (3:12)
A4 La Campesina (4:13)
A5 Canta (6:54)
–
B1 Child Of The Sun (8:02)
B2 Ryan's Rant (2:15)
B3 Oh La La (4:00)
B4 Poison In The Water (3:32)
B5 A Poesia (3:33)

F 667.399
ハーリーマッシュ
---
Find the original vinyl LP on eBay!
€43.00
Ends in 23d 17h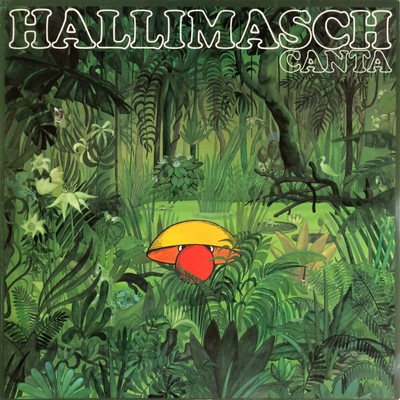 Hallimasch
Canta
–
F 667.399
Germany
1981