Pierre Dutour & Son Orchestre ‎
Dance & Mood Music Vol. 13
–
Chappell ‎– DMM 313
France
1970
So Glad To Meet You
French Library recording by Jack Arel & Pierre Dutour. From the very popular and hard to find Chappell DMM (Dance & Mood Music) series. Full of late 60's Psychedelic Funk and Beat sounds. SO GLAD TO MEET YOU including a monster open Breakbeat in the middle of the track.
Tracklist

Musique Contemporaine
A1 Picture Of Summer (6:25)
A2 Picture Of Autumn (5:05)
A3 Picture Of Winter (4:20)
B1 Picture Of Spring (5:25)

Pop Music
B2 Burning Sound (2:50)
B3 Wait For Me (2:45)
B4 Water Sun (3:08)
B5 So Glad To Meet You (2:00)
B6 Bewilderment (2:02)
---
Find the original vinyl LP on eBay!
€70.00
Ends in 26d 20h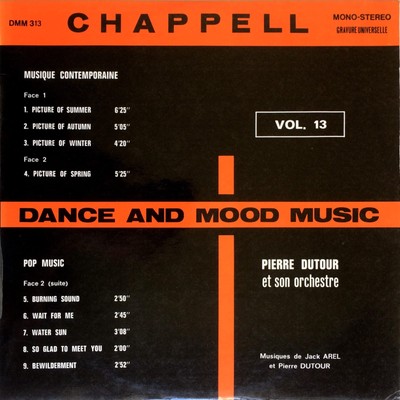 Pierre Dutour & Son Orchestre ‎
Dance & Mood Music Vol. 13
–
Chappell ‎– DMM 313
France
1970