Lev Leshchenko and the «Spektr» Group
ЛЕВ ЛЕЩЕНКО И ГРУППА «СПЕКТР»
–
Мелодия – С60-16769-70
USSR
1981
Родительский Дом
Nice and relaxed grooving USSR Pop. One of some nice tunes on this extraordinary album by the Russian singer Lev Leshchenko with the «SPEKTR» group. Especially the synthesizer work outs are, as the name of the group announced, really spectacular.
Tracklist

A1 Любовь, Как Роза (3:46)
A2 Листопады (3:32)
A3 Птица Любви (3:50)
A4 Помни (3:58)
A5 Сон (4:24)
–
B1 Любовь Не Виновата (3:33)
B2 Снился Мне Сон (4:00)
B3 Родительский Дом (3:38)
B4 Мы Встретимся Едва Ли (3:44)
B5 Радуга (3:28)

Credits

Ensemble – Спектр
Leader – Игорь Дорохов
Pressed by Апрелевский Завод Грампластинок
© «Мелодия», 1981
Всесоюзная студия грамзаписи. Запись 1981 г.
Апрелевский ордена Ленина завод грампластинок
ГОСТ 5289-80
С60-16769-70
Гр. 3. 1-90
СТЕРЕО 33
B5
Радуга (114 BPM)
ЛЕВ ЛЕЩЕНКО И ГРУППА «СПЕКТР»
---
Find the original vinyl LP on eBay!
€23.00
Ends in 27d 12h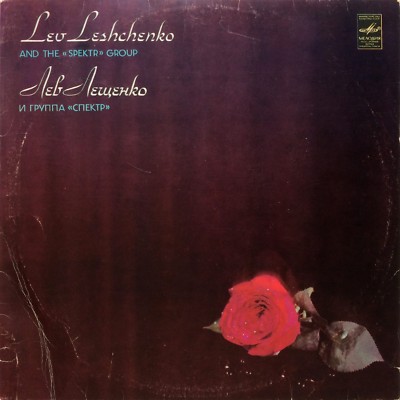 Lev Leshchenko and the «Spektr» Group
ЛЕВ ЛЕЩЕНКО И ГРУППА «СПЕКТР»
–
Мелодия – С60-16769-70
USSR
1981