Mickie D's Unicorn
Mickie D's Unicorn
–
Innovative Communication ‎– IC 58 064
Germany
1979
Little Red Riding Hood
I especially love this relaxed Reggae affected tune on this in general great Electronic, Synth-Pop album by Michael Duwe (aka Mickie D). Produced by Klaus Schulze who founded also the Innovative Communication label for Synth Music (Berlin School of electronic music) and Krautrock related music.
Credits

Guitar [Fender-Stratocaster], Twelve-String Guitar [Ibanez-12-String], Acoustic Guitar [Ovation-12-String Acoustic], Synthesizer [ARP-odyssey, Polymoog, Minimoog], Electronics [PPG-Sequencer], Vocoder [EMS-Vocoder], Vocals – Mickie D.
Liner Notes – Klaus Schulze
Mastered by SST
Music by Mickie D. (tracks: A1 to A4, B2 to B4)
Painting [Front-Coverpainting] – Arnd Maibaum
Photography by Detlev Maugsch
Producer [Produced By] – Klaus Schulze, Mickie D.
Recorded By, Mixed By – Eberhard Panne, Mickie D.
–
℗© 1979 WEA Musik GmbH

Tracklist

A1 In Times Of The Unicorn (6:14)
A2 The Witch (4:54)
A3 Sundayborn Child (2:40)
A4 The Searcher (5:31)
–
B1 Little Red Riding Hood (3:57)
B2 Black Riders (5:06)
B3 West Of The Moon (3:35)
B4 A: Elbereth (6:08)
Black Riders
Drums: "Sunshine"
Synthesizer [Polymoog-Strings]: Mano

Photo: Detlev Maugsch
---
Find the original vinyl LP on eBay!
€7.00
Ends in 20h 59m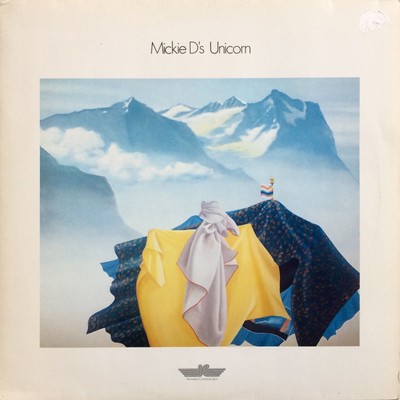 Mickie D's Unicorn
Mickie D's Unicorn
–
Innovative Communication ‎– IC 58 064
Germany
1979