Benny Gebauer and the Werner Drexler Sound Combination
Spotlights
–
Happy Records ‎– HR 2230
Germany
1981
Funky Donkey
Obscure 116 BPM Disco ride. HAPPY RECORDS delivers with this album some nice n' easy porno grooves. That was not the intention but with the strong focus on the alto-saxophone, played by Benny Gebauer, everything sounds like the typical relaxed Library Music to set erotic scenes to music. Snugly laid-back tunes, played by some talented musicians like Curt Cress (Drums, Percussion), Günther Gebauer (Bass), Joseph Spector (Percussion) and some tunes are also supported by the Munich Pop Strings.
Tracklist

A1 Spotlights
A2 Elegy in Pop
A3 Blue Roses
A4 Racing Team
A5 Face to Face
A6 Bright Sunday
–
B1 The Pelican
B2 Magic Moments
B3 Thriller
B4 Funky Donkey
B5 Mon Soleil
B6 Just for Fun

Musicians

Saxophone – Benny Gebauer
Bass – Günther Gebauer
Drums, Percussion – Curt Cress
Guitar – Mats Björklund
Keyboards, Synthesizer – Hermann Weindorf
Percussion – Joseph Spector
Strings – Munich Pop Strings
EnsembleWerner Drexler Sound Combination
Leader – Werner Drexler
Blue Roses
Written by Roy Kent
---
Find the original vinyl LP on eBay!
€7.00
Ends in 6d 21h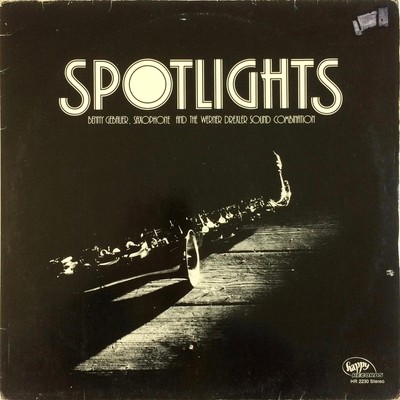 Benny Gebauer and the Werner Drexler Sound Combination
Spotlights
–
Happy Records ‎– HR 2230
Germany
1981