Heidelinde Weis
So ein Narr bin ich…
–
Intercord ‎– INT 160.050
Germany
1976
Der Supermann
Wah wah sounds, tight drums, groovy bass lines, funky horns and the ironic song-lyrics about THE SUPER GUY. Slick, solid Soul Music made in Germany (Union Studios, Munich).
Tracklist

A1 Der Supermann 3:26
A2 Freundliche Aufforderung 2:57
A3 Ich Steh' Mir Im Weg 2:30
A4 Die Wundersame Stunde 3:00
A5 So Ein Ball In Cannes 2:56
A6 Für Den Frieden, Sagen Menschen 3:28
–
B1 So Ein Narr Bin Ich… 2:30
B2 Willst Du Mich So 3:10
B3 Tu's Doch, Ingo 2:52
B4 Tolli Von Immenruh 4:56
B5 Nimm Mich Einfach 3:06
B6 Nimmer Mehr 2:22
Willst Du Mich So
Catchy charming breathy vocals, Heidelinde Weis on the sexy Bossa Bova trip again.
---
Find the original vinyl LP on eBay!
€25.00
Ends in 23d 2h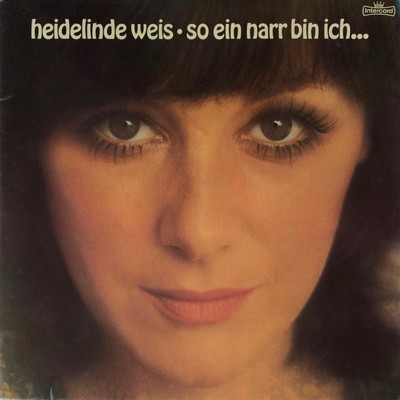 Heidelinde Weis
So ein Narr bin ich…
–
Intercord ‎– INT 160.050
Germany
1976