Heidelinde Weis
So sing ich
–
Intercord ‎– 26 486-1 U
Germany
1975
Hans Emmerich
Dope Rare Groove sung in German. Great tune and one of my long time GERMAN SOUL favorites.
Bettgeflüster
This first album by Austrian (theatre and television) actress and songstress Heidelinde Weis was produced by no one other than Kristian Schultze. A very productive collaboration with final total three excellent albums as output. For the recording at the Union Studios, Munich Schultze invited some first-class accompanying musicians like Sigi Schwab on the guitar, Dave King on bass, Bernie Proc plays the percussion and even the Austrian Clarinet legend Fatty George. Extremely good result. The album contains several erotic vocal Jazz tunes like ICH WILL DICH and other pillow talk songs with ironically lyrics about sexual wishes and needs. Standout and catchy Bossa Nova, Soul-Jazz and other funky stuff sung in German.
Rightly won this debut album the Schallplattenpreis der Deutschen Phono-Akademie E.V. ("German Record Critics' Award") for qualitative high-grade sound recordings. And after the big success it was, also in 1975, released as INTERCORD Club-Sonderauflage. But aside from this wording unter the logo and the serial number (27 768-1) it's exactly the same record. Comes also in the nice designed gatefold cover that has as third minor difference a matted surface treatment instead of a lamination.
Vorbei, vorbei!
Over, over … take the furniture and get along with you! Eased but disappointed lyrics about relationship and possession separation. Cynical sung on a Brazilian appeared sound with Cuica, the Brazilian music instrument that sounds like a monkey.
Tracklist

A1 Hans Emmerich (3:22)
A2 Ich will Dich (2:00)
A3 Wieder mal er (2:50)
A4 … und ich geb auf (3:14)
A5 Soll ich, soll ich nicht (3:19)
A6 Ich gehöre Dir (2:25)
A7 Vorbei, vorbei! (3:30)
–
B1 An Franz Peter (4:48)
B2 Doch Du bemerkst es kaum (1:45)
B3 Späte Erfüllung (3:28)
B4 Mein Liebling (2:49)
B5 Sonntag (2:55)
B6 Bettgeflüster (2:35)
B7 Abschied (3:35)

Credits

Acoustic Bass – Gary Todd
Bass [Fender] – Dave King
Brass – Hanusch Berka
Clarinet – Fatty George
Drums – Tod Canedy
Guitar – Sigi Schwab
Keyboards – Kristian Schultze
Lyrics By – Heidelinde Weis
Percussion – Bernie Proc
Producer, Arranged By – Kristian Schultze
Technician [Tontechnik] – Peter Kramper
Tenor Saxophone, Flute – Olaf Kübler
Trombone [Tenor] – Silous Prohanka
---
Find the original vinyl LP on eBay!
€13.00
Ends in 12d 22h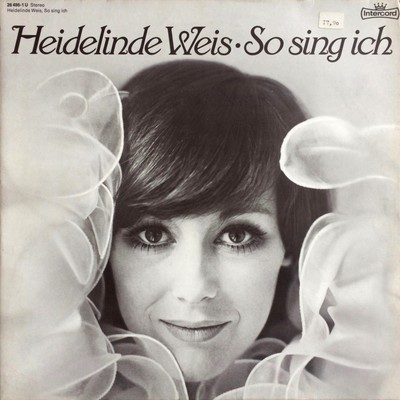 Heidelinde Weis
So sing ich
–
Intercord ‎– 26 486-1 U
Germany
1975