Florian Poser's Lifeline
Linie 2
‎–
Pläne Verlag ‎– 88280
Germany
1981
Come Down To Brazilia
Another groovy BRAZILIAN EXPERIENCE by Florian Poser's Lifeline.
    HHV Schnellbahn-Linienplan www.hvv.de
U2 (Niendorf Nord – Mümmelmannsberg)
LINIE 2 was already the second album by LIFELINE, the formation around there juicy German jazz musician Florian Poser (vibraphone, marimba and composition). Since 1994 Florian Poser is active as professor at the HfK/Uni Bremen (University of the Arts Bremen) and is teaching there Jazz and Popular Music. In WS 2017/18 was also M3-R75.A – BRAZIL COMBO, a course for Brazilian-Jazz-Standards on his curriculum. But this album was evolved in the early in the 80's in Hamburg.
The cover artwork is mad designed with narrative black and white photographs by Michael Meyborg. At the frontside we can see the musicians with their instruments at the subway station U-Bahnhof Emilienstraße, Hamburg Eimsbüttel. Obviously on their way to the Volkspark Studio, Hamburg where this album was recorded. At the backside of the album cover the story goes forward. There we can see the musicians inside the subway line U2 (Niendorf Nord – Mümmelmannsberg) what was certainly eponym for the album title LINIE 2.

Tracklist

A1 Come Down To Brazilia 4:59
A2 Doppeldecker 4:51
A3 Friesischer Sommer 5:47
A4 So Easy 4:00
–
B1 Wettritt Durch Die Sierra Madre 4:37
B2 Silent Pain 5:35
B3 Handle With Care 6:48
B4 For All The Saints 5:26

Credits

Bass – Ede Brumund
Design [Cover] – Peter Bucker
Drums, Percussion – Dirk Schönbeck
Engineer [Ton] – Stefan Andrae
Guitar – Manfred Jestel
Mixed By – Stefan Andrae, Ulrich Maske
Photography By – Michael Meyborg
Producer – Florian Poser's Lifeline, Ulrich Maske
Tenor Saxophone, Alto Saxophone, Soprano Saxophone – Manfred Seegers
Vibraphone, Organ – Florian Poser

Ⓟ & Ⓒ  1981 Verlag »pläne« GmbH, Dortmund
Nr. 88280 (A-6027 A/B)
---
Find the original vinyl LP on eBay!
€13.00
Ends in 5d 20h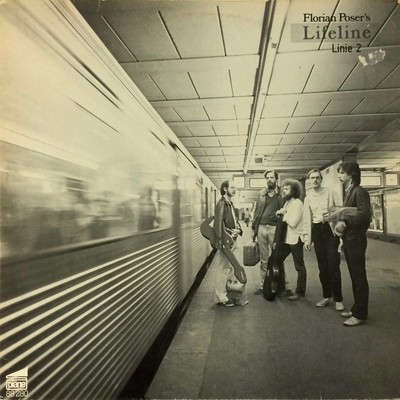 Florian Poser's Lifeline
Linie 2
‎–
Pläne ‎– 88280
Germany
1981