bizzl
12 Sommer Hits
–
CBS Special Products, Aladin ‎– LSP 15251
Germany
1982
Crypton – Stranger In Space
This funny bizzl Sommer Hits compilation contains exactly one great tune: STRANGER IN SPACE by Crypton. Gorgeous cosmic disco with laid-back 113 BPM. A convince combination of funky soulful music with sophisticated synthesizer sounds. Outstanding is also the cooperation of vocoder and the wonderful female vocals. All this comes from the early 80s but it sounds very fresh and updated.
I discovered this great tune by accident. I dropped the needle, without expectations, only to value the condition of a used copy from this picture disc which I thought to place as, only optical, cheerful item in my RECORD-HEAD for sale section. But yeah, what I accidental heard was this smashing Italo Disco surprise.


Originally STRANGER IN SPACE (Aladin ALA A 1328) was only released as 7″ single. And this smiling piece of vinyl is the only 12" release that contains this galactic disco pearl.
Crypton
CRYPTON is a Funk, Soul, Disco act from Mannheim, Baden-Württemberg, Germany. Since more than 30 years they are performing, in different line-ups, on stages all over Germany and in the neighboring Europe. Often they was also on stage beside some household names in the European pop business. For example as backing group for Far Corporation (Frank Farian), No Mercy (Frank Farian), Sydney Youngblood and Charles Shaw (the voice of MILLI VANILLI).
In the early 1980s they had released a couple of, mostly 7″, vinyl singles. STRANGER IN SPACE (Aladin ALA A 1328) was their debut single from 1981. The reason why this outstanding tune made it on this bizzl compilation is a mystery.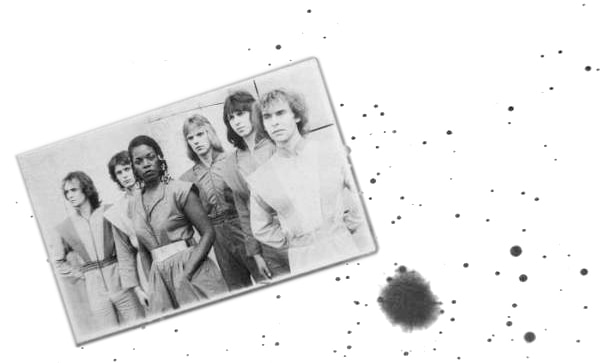 Actual concert-dates you will notice when you connect with Crypton via www.facebook.com
Der fröhliche Durstlöscher
bizzl is a soft drink brand founded in the late sixties by some mineral water producers from Bad Vilbel, Hessen, Germany. 1968 they startet with a "Cola" and one "Naturherb Zitrone" lemonade. In the next years they have expansion their lemonade and mixture of fruit juice and sparkling waterdrinks portfolio. Today bizzl is part of the Hassia Mineralquellen GmbH & Co. KG.
More about the bizzl-story you can find on their website: www.bizzl.de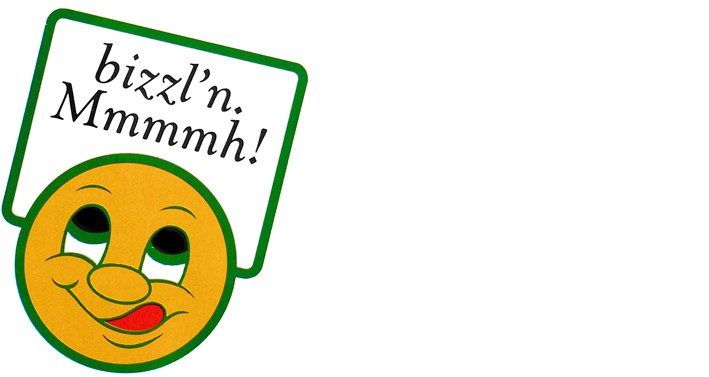 Since the early 70s bizzl had this cheekily face as character for their commercials and advertising. A lovely dude and he worked. I had ever the association of lemon and a light desire on a sparkling drink when ever I saw this naughty smiley. This well done iconic advertising mascot let also forgive that the bizzl radio advertising spots was so nerved and overdosed in rotation. I remember only a car glass spot and a German muesli producers radio advertising that was more insupportable.
Sunshine Reggae
In the 80s bizzl comes around with this Sommer Hits various artists to promote their fresh summer lemonade flavors. All starts 1982 with this "12 Sommer Hits", exactly this compilation that contains STRANGER IN SPACE by Crypton. Than they thrown this promotional vinyls seemingly every summer until middle of they 90s. Each one is, for a promotional record, very lovely designed. In general a funny idea to have the iconic bizzl smiley, often with another facial expression, full-size on the 12" picture disc. But from the music selection it's more replaceable. Schlager, beat and well-established pop music mostly exerted to fit with the "summer" topic. Laid Back with SUNSHINE REGGAE is one of the better tunes.
bizzl – 12 Sommer Hits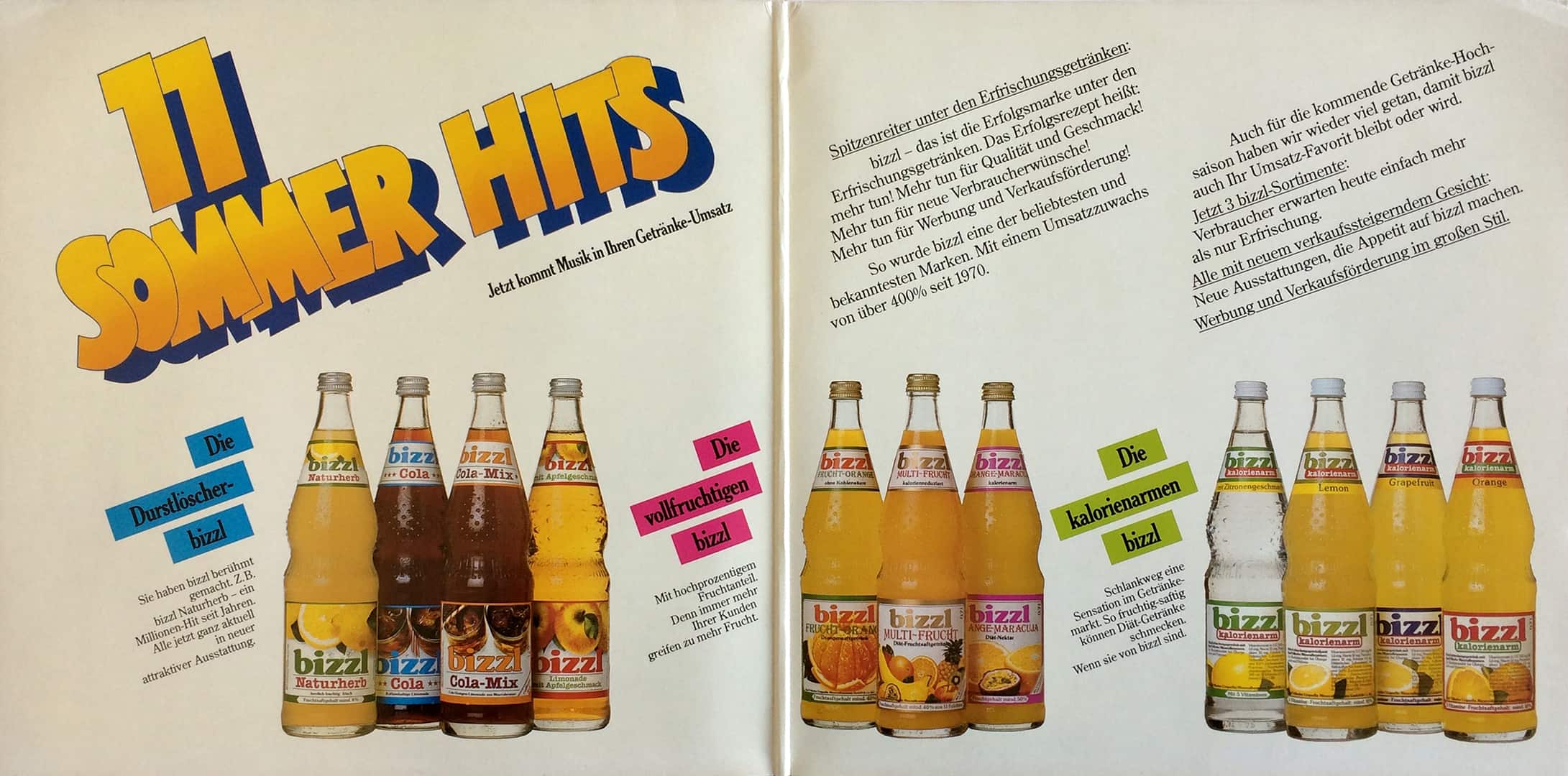 There was two different issues. One, comes in a gatefold cover with some information about the growth, advertising and marketing activities of the bizzl brand. This one was obvious for the drink retailer. It also contains some large pictures and many details of the coming summer lemonade trends. The other issue is the same picture disc with the same music but in a common record cover was for the end customers, given away in a raffle.

bizzl – 12 Sommer Hits
Tracklist

A1 Goombay Dance Band – Sun Of Jamaica
A2 Jenny Lean – Martinique Chéri
A3 Le Angeli – Hello Mr. Businessman
A4 Crypton – Stranger In Space
A5 Rachel Sweet – Party Girl
A6 Chica – La Chica
–
B1 Goombay Dance Band – My Bonnie
B2 Frank Rothe – Arktis Lady
B3 Ricky King – Hale, Hey Louise
B4 The Nolans – Gotta Pull Myself Together
B5 Paola – Blue Bayou
B6 Goombay Dance Band – Seven Tears
---
Find the original vinyl LP on eBay!
bizzl
12 Sommer Hits
–
CBS Special Products, Aladin ‎– LSP 15251
Germany
1982