Pavel Novák
Pavel Novák
–
AMIGA ‎– 8 55 425
German Democratic Republic (DDR)
1975
Trochu Smutná Paradá
Sounds a little bit overloaded for my taste but it's definitely the dope and funky kind of (East) German Schlager music. Sung in his first language by Czech vocalist Pavel Novák. Supported of the female vocal chorus "Gruppe Vox", sometimes also announced as "Pavel Novák and his VOX Group".
Orchester Gustav Brom is responsible for the soulful big band sound and the nice Breakbeats.
Sophisticated tune from a multisided singer. Make sure to listen, for the contrast, also to 1000 FARBEN WÜNSCH ICH MIR which was his most successful tune released on the DDR record label AMIGA and it's also assembled on this album.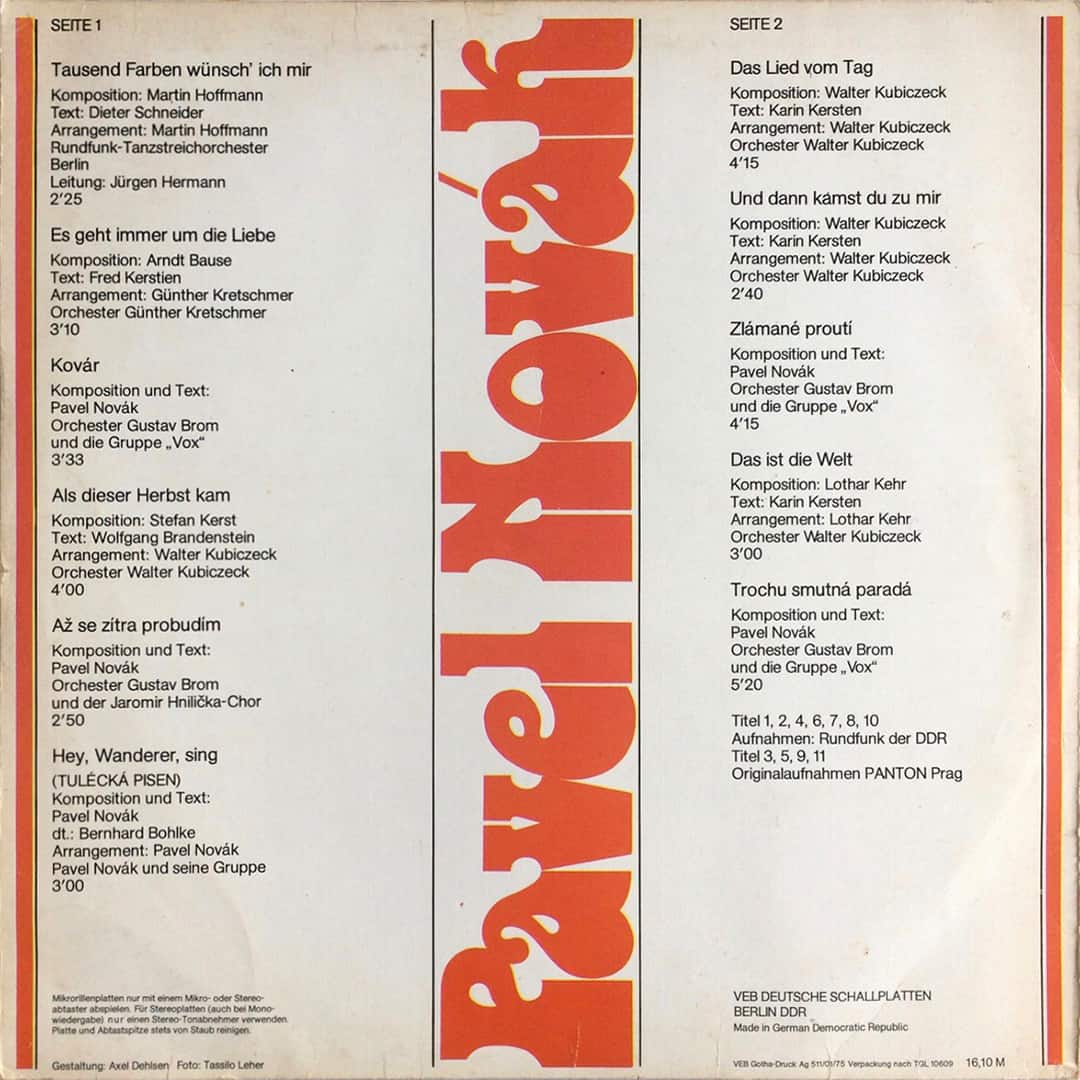 Tracklist

A1 Tausend Farben Wünsch' Ich Mir 2:25
A2 Es Geht Immer Um Die Liebe 3:10
A3 Kovár 3:33
A4 Als Dieser Herbst Kam 4:00
A5 Až Se Zítra Probudím 2:50
A6 Hey, Wanderer, Sing (Tulécká Pisen) 3:00
–
B1 Das Lied Vom Tag 4:15
B2 Und Dann Kamst Du Zu Mir 2:40
B3 Zlámané Proutí 4:15
B4 Das Ist Die Welt 3:00
B5 Trochu Smutná Paradá 5:20

Credits

Walter Kubiczeck
Orchester Gustav Brom
Orchester Günther Kretschmer
Rundfunk Tanzorchester Berlin

Producer – Edward Hadwiger
Cover Design [Gestaltung] – Axel Dehlsen
Engineer – Jindřich Michalík, Miloš Šindelář
Photography – Tassilo Leher
Aufnahmen: Rundfunk der DDR & Panton Prag

VEB Deutsche Schallplatten Berlin DDR
Made in German Democratic Republic
VEB Gotha-Druck Ag 511/01/75 Verackung nach TGL 10609
16,10 M
---
Find the original vinyl LP on eBay!
€10.00
Ends in 30d 20h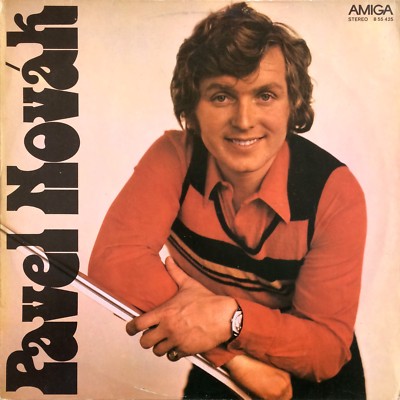 Pavel Novák
Pavel Novák
–
AMIGA ‎– 8 55 425
German Democratic Republic (DDR)
1975