Charly Kingson ‎
Dance To The Music
–
CK 001
Germany
1980
Jazz Welle Plus Hamburg
To make the three in a row, with all the Charly Kingson releases, complete we have here the album DANCE TO THE MUSIC. If I got that right it's complete privately produced and released by himself. Recorded with some talented musicians from the Hamburg and especially the keyboard and synthesizer inserts by Burkhart Plenge makes it sounding so fresh and futuristic for this time. Released is this one 1980, two years after his first album which was recorded 1978 at the legendary Studio 70, Munich.
That this second album is recorded in Hamburg is a fact that supports the stories and rumors that the Afro-Jamaican bass player Charly Kingson lived, rooted in the local "Hamburger Jazzszene", for many years in Hamburg.
One crazily story about Charly Kingson in Hamburg I heard first-hand from a friend who had a radio show on Jazz Welle Plus Hamburg during the 90s. One day he played BORN IN AFRICA and Charly Kingson was phone in the radio station just to say how happy he was to hear his song at the radio.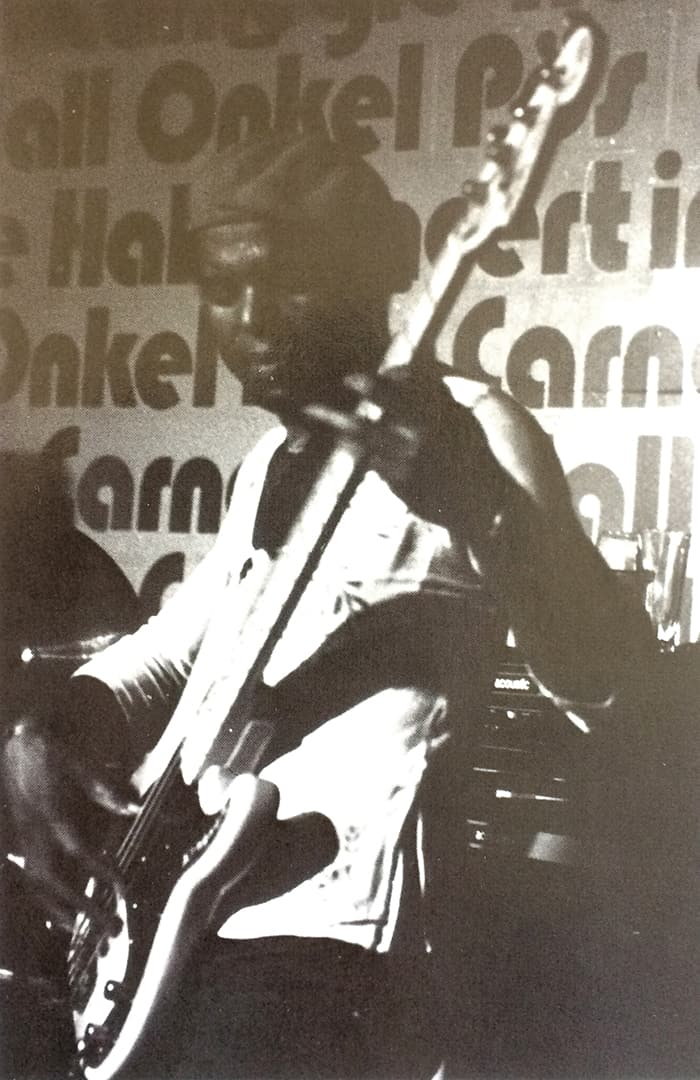 Musikklub Onkel Pö
Hamburg-Eppendorf
On the cover backside you can see a picture that shows Charly Kingson on stage of the legendary jazz and music club Onkel Pö's Carnegie Hall.
Tracklist

A1 Dance To The Music
A2 Happy People
A3 Give Me One More Day
–
B1 I Love You
B2 Do It (Iy You Feel It)
B3 Party (Party Time)
B4 Paulina

Credits

Acoustic Guitar – Georges N. William
Backing Vocals – Chiquita Coding, Esther N. Kingson, Windy Walker
Bass Guitar [Wha-Bass] – Charlie S. Kingson (tracks: B3)
Congas, Bongos, Bells, Cabasa – Miguel Philips
Drums – "Papa" Curvin Merchant (tracks: B4), Mickie Stickdorn
Electric Piano [Fender Rhodes], Grand Piano [Yamaha], Musical Box [Yamaha Polyphon], Synthesizer [Moog, Strings, Brass Synth] – Burkhart Plenge
Engineer [Brunwey Studio] – Manfred Brunwey
Engineer [Remix] – Wolfgang Helbsing
Engineer [The Unique Studio] – Jay Burnett, Steve Pack
Lead Guitar, Rhythm Guitar – Jens Fisher
Producer – Jutta Ensenhöfer
Written-By, Composed By, Arranged By, Producer, Vocals, Backing Vocals, Strings, Synth, Arranged By [Brass], Lead Vocals, Cowbell, Drums, Engineer [Remix Assistant] – Charlie S. Kingson

All songs written, composed and arranged by: Charly Kingson (Charlie Kingue Soppo)
---
Find the original vinyl LP on eBay!
Charly Kingson ‎
Dance To The Music
–
CK 001
Germany
1980