Orchester Fred Rabold ‎
Eine lustige Ballonfahrt
–
Fred Rabold Musikproduktion ‎– FR 2300
Germany
Hard Top
Groovy high spirits instrumental Soul tune with absorbing tempo-breaks and horn steps. The only thing you could missing is the deep whistling voice of Barry White. Funny and funky tune written by the German Library music composer Horst Abel.
Orchester Fred Rabold
Fred Rabold (1922 – 1993) was a German composer, flute/saxophon player and Big Band leader.
Orchester Fred Rabold performed at radio and TV shows, was touring with live shows successful all over Germany and Europe.
Ich sehe meine Aufgabe darin, durch die Musik Freude zu bringen
I see my mission in that to deliver pleasure with the music

Fred Rabold
With his own publishing company Fred Rabold released his music on self produced records. Musical its BIG BAND SOUND from genres like Jazz, Latin, Funk & Soul … often Easy Listening and sometimes over the edge to German Blasmusik. He delivered entertaining music for several tastes. Often in collaboration or mission for local television and radio stations. But irrespective of taste all this Rabold private press releases are very rare. Small editions, only for local radio stations, self published records with artworks that reminding optical of records from Library Music labels.
Fred Rabold was also father of the Jazz artist Frédéric Rabold. He and his brother, Dominique Rabold, was also often orchestra members and involved in the music productions. After Fred Rabold in 1993 past away Dominique Rabold take over his fathers place and until today he is arranging the Orchester Fred Rabold activities and producing Light Music CD's.
Tracklist

A1 Lustige Ballonfahrt (2.08)
A2 Herrliche Blumen (Beautiful Flowers) (3.07)
A3 Swinging Promenade (2.52)
A4 Zärtliche Worte (2.12)
A5 Brother Lightfoot (2.30)
A6 California-Trip (2.32)
A7 Smiling Eyes (2.06)
A8 Salida (Abfahren)(1.59)
–
B1 Pretty Good Choice (2.06)
B2 Nächstes Mal (2.22)
B3 Shuffle Girl (2.04)
B4 Trumpet Serenade (2.27)
B5 Music Is My Hobby (2.33)
B6 Besos Por Sylvie (2.49)
B7 Duchess (2.19)
B8 Hard Top (2.59)


Credits

Arranged By – Dominique Rabold (tracks: A8), Fred Rabold (tracks: A1, A2, A4, A6, A7, B1 to B4, B7), Horst Abel (tracks: B8), Manfred Minnich (tracks: A3), René Brossi (tracks: A5, B5, B6)
Trumpet [Solo] – Frederic Rabold (tracks: B4)
Written-By – Bert Heri (tracks: A5), Boris Schoska (tracks: A3), Dominique Rabold (tracks: A8), Frank Holfert (tracks: B3), Fred Rabold (tracks: A1, B2, B4), Fred Seltzer (tracks: B2), Frederic Rabold (tracks: B4), Georg String (tracks: B7), Heinz Buchold (tracks: A4), Heinz Jahr (tracks: A2), Hendric Haydegg (tracks: A6), Horst Abel (tracks: B8), Karl Lauterbach (tracks: B2), Ralf Heninger (tracks: A7), René Brossi (tracks: B6), Stephan Lauritz (tracks: B1), Walter Franz (tracks: B5)
---
Find the original vinyl LP on eBay!
€27.00
Ends in 25d 16h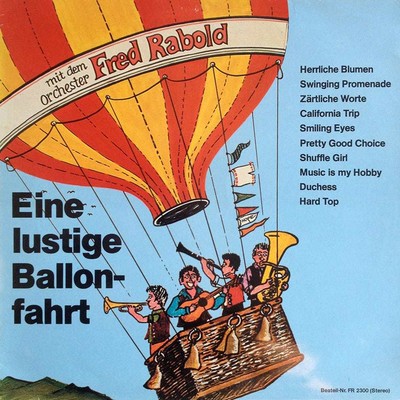 Orchester Fred Rabold ‎
Eine lustige Ballonfahrt
–
Fred Rabold Musikproduktion ‎– FR 2300
Germany