Roland Kovac New Set
God Means Joy
–
Selected Sound ‎– 9022
Germany
1972
As You Like It
AS YOU LIKE IT, my favorite tune on this overall good album. The Roland Kovac New Set is a formation of some genius well-respected European Jazz and Rock musicians. Some call it Jazz, some call it Krautrock … I call it SOUL! And yeah, that's the way as I like it.
Tracklist

A1 As You Like It 4:14
A2 E Vero 3:34
A3 Dana 2:39
A4 God Means Joy 4:55
–
B1 Bric Brac 2:59
B2 What A Morning 2:31
B3 Dschinga Dschanga 3:05
B4 Donna Serafina 3:37
B5 Soldier Schwejk 2:55
B6 Dana's Dream 2:30

Roland Kovac New Set

Roland Kovac
Brian Auger
Peter Trunk
Siegfried Schwab

Composers

Roland Kovac
Luis Meguel
Pietro Leguani
Bob Elger
Horst Bredow
Gerd Schoenau
Franz-Josef Zimmermann
---
Find the original vinyl LP on eBay!
€15.00
Ends in 19d 23h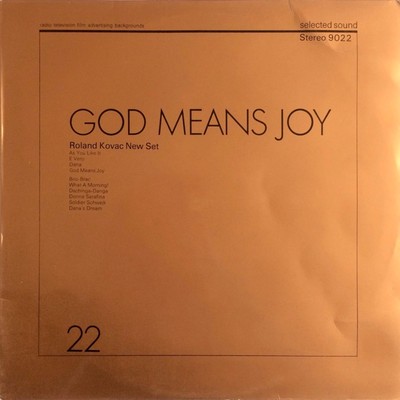 Roland Kovac New Set
God Means Joy
–
Selected Sound ‎– 9022
Germany
1972